设计 \ LICO力高设计 中国惠州
品牌系统再塑
品牌战略定位+品牌战略理念系统+品牌符号系统+品牌触达系统+项目内容策划
项目名称
Lico力高设计 力创高品 理想生活 DESICN FOR THE IDEALLIFE
http://www.licogd.cn
行业领域
设计 # 室内建筑设计 # 设计事务所 #
Design # Interior Architecture Design # Design Office #
服务背景
2019年,对于LICO力高设计和创始人钟良胜先生而言,是非常不同寻常且意义重大的一年。这一年,为了使LICO获得更进一步的发展方向与成长思路,钟良胜先生放下手边所有的工作与疑虑,毅然奔赴上海,参加了PINKI EDU品伊国际创意美学院的招牌课程《设计美学领导力导航班第23班》的学习充能,也是在这个课程上,我结识了钟良胜先生。同年,LICO经历了14年来的第三次乔迁,搬入惠州惠城区万林湖L2-1栋,团队完成了LICO OFFICE从建筑、景观、空间到工程、软装全统筹的所有工作,力高新办公室顺利落成。作为品牌创始人的钟良胜先生想要带领LICO进入全新发展阶段的心愿与决心已然十分强烈。


2019 is a very unusual and significant year for Mr. Zhong Liangsheng, the design and founder of LICO. This year, in order to enable LICO to gain further development direction and growth ideas, Mr. Zhong Liangsheng put aside all the work and doubts at hand, resolutely rushed to Shanghai, and participated in the signature course "Design Aesthetics Leadership Navigation" of PINKI EDU International School of Creative Beauty. The learning charge of "Class 23" was also in this course, and I met Mr. Zhong Liangsheng. In the same year, LICO experienced the third housewarming in 14 years and moved into Building L2-1, Wanlin Lake, Huicheng District, Huizhou. The team completed all the overall planning of LICO OFFICE from architecture, landscape, space to engineering, and soft decoration. Completed smoothly. As the founder of the brand, Mr. Zhong Liangsheng has a strong desire and determination to lead LICO into a new stage of development.

2020年,在学院组织的大美中国·黄河美学之行的行程中,我与钟良胜先生有机缘被安排同车同行,因此,我们得以获得一次长达数小时的深度交流讨论。LICO的核心设计理念"50%DESIGN"正是这次谈话中,钟良胜先生第一次提出来的观点,这点非常触动我。之后,受钟良胜先生邀约,我们在LICO惠州新办公室又畅聊到深夜,这一次的沟通让我对LICO有了更深度的了解和认知。作为设计师,对待专业和出品,钟良胜先生相比大多数有要求、有标准的设计师显得更"偏执"更"细节";对待客户项目的设计思考,常常在日常生活体验的细枝末节中释放着情感,如果我是他的客户,我想我一定会被他的设计感动;对待团队,像是一个兄长和教练的集合体,处理工作时极其严谨细致,但团队氛围又非常放松与温暖。


In 2020, during the Great American China·Yellow River Aesthetics Tour organized by the college, Mr. Zhong Liangsheng and I were arranged to travel in the same car. Therefore, we were able to have a few hours of in-depth exchanges and discussions. The core design concept of LICO "50% DESIGN" is exactly the point raised by Mr. Zhong Liangsheng in this conversation, which touched me very much. After that, we were invited by Mr. Zhong Liangsheng to chat late at night in the new office of LICO Huizhou. This communication gave me a deeper understanding and cognition of LICO. As a designer, Mr. Zhong Liangsheng is more "paranoid" and more "detailed" in dealing with professionalism and production than most demanding and standard designers; the design thinking of client projects is often released in the details of daily life experience. Emotion, if I were his client, I think I would be touched by his design; treating the team is like a collection of brothers and coaches. The work is extremely rigorous and meticulous, but the team atmosphere is very relaxed and warm.
这十一年来,不断与全国各地的设计大佬、创业设计师接触与了解,DRD认为,钟良胜先生和LICO的设计理念、作品乃至力高的品牌文化都应当被更多客户、同行、社会认知,应该成为惠州设计行业的一张名片,一面旗帜。钟良胜先生和他的LICO在当下这个充满诱惑、不安、浮躁的时代,势必将成为那些默默持守专业理想、尊重和热爱专业、敬业且真诚为客户着想的年轻一代设计师的最佳范本和前行动力。


Over the past eleven years, we have been in contact and understanding with design leaders and entrepreneurial designers from all over the country. DRD believes that Mr. Zhong Liangsheng and LICO's design concepts, works and even Ligao's brand culture should be recognized by more customers, peers, and society. Knowing, it should become a business card and a banner of Huizhou's design industry. Mr. Zhong Liangsheng and his LICO are bound to become the best model and predecessor of the younger generation of designers who silently adhere to professional ideals, respect and love professionalism, dedication and sincere consideration for customers in this era full of temptation, anxiety, and impetuousness. Action force.
服务内容
2020年12月,钟良胜先生正式确定了LICO与DRD的品牌系统再塑的年度顾问服务合作,
In December 2020, Mr. Zhong Liangsheng formally confirmed the annual consulting service cooperation between LICO and DRD's brand system reshaping.

DRD自2020年12月至2021年12月,为LICO提供为期一年的品牌系统再塑年度顾问服务。
From December 2020 to December 2021, DRD provided LICO with a one-year annual consulting service for brand system reshaping.

服务内容包括:LICO品牌历史梳理与回顾、LICO品牌战略定位、LICO品牌战略理念系统创建、LICO品牌符号系统创建、LICO品牌触达系统创建、LICO品牌项目内容策划等系统性咨询顾问设计内容。
The service content includes: LICO brand history combing and review, LICO brand strategic positioning, LICO brand strategic concept system creation,Systematic consultants design content such as the creation of LICO brand symbol system, the creation of LICO brand reach system, and the content planning of LICO brand projects.


核心服务成果
LICO 力高设计 力创高品 理想生活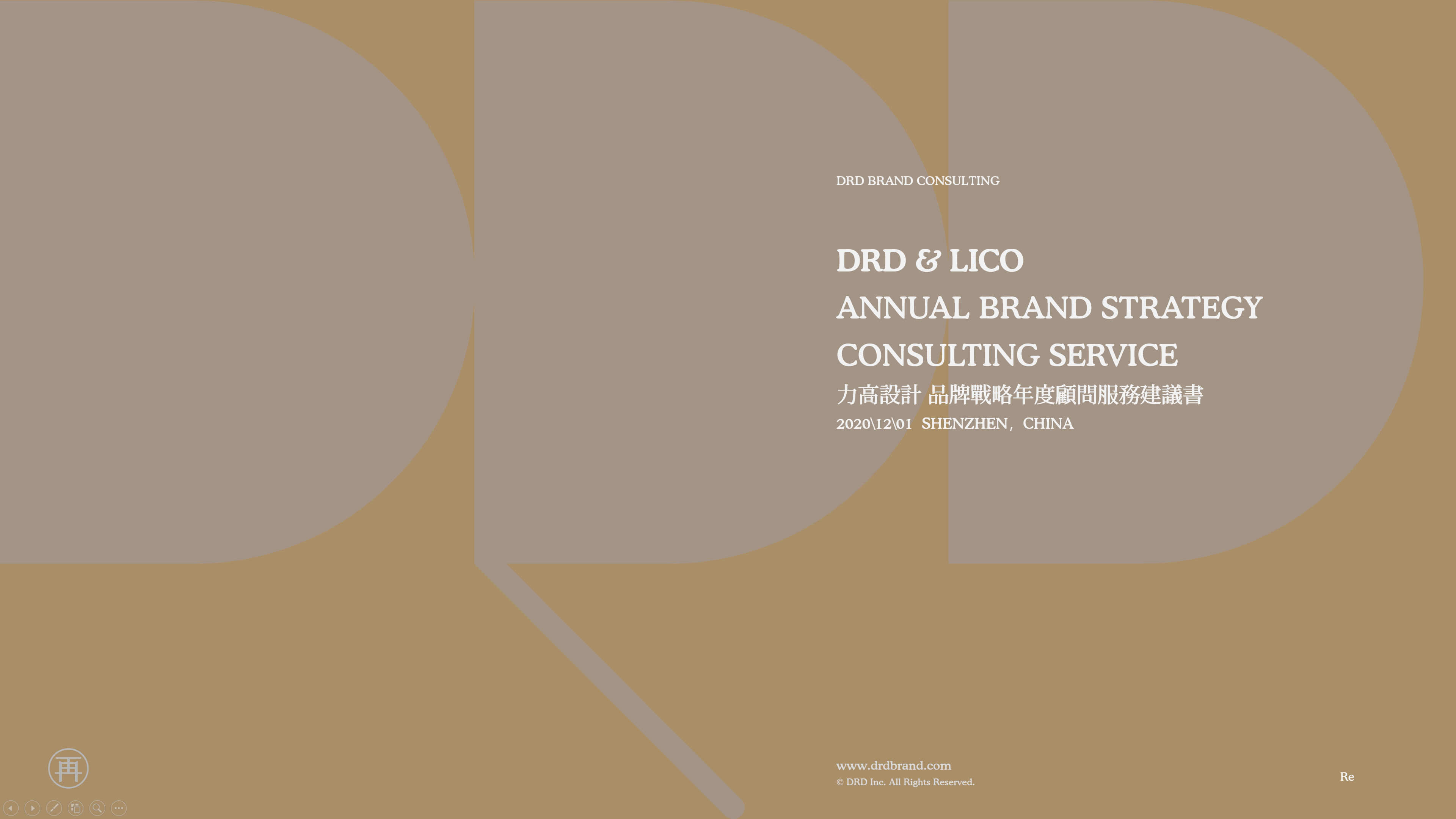 成果 1 《 LICO力高设计品牌战略年度顾问服务建议书 》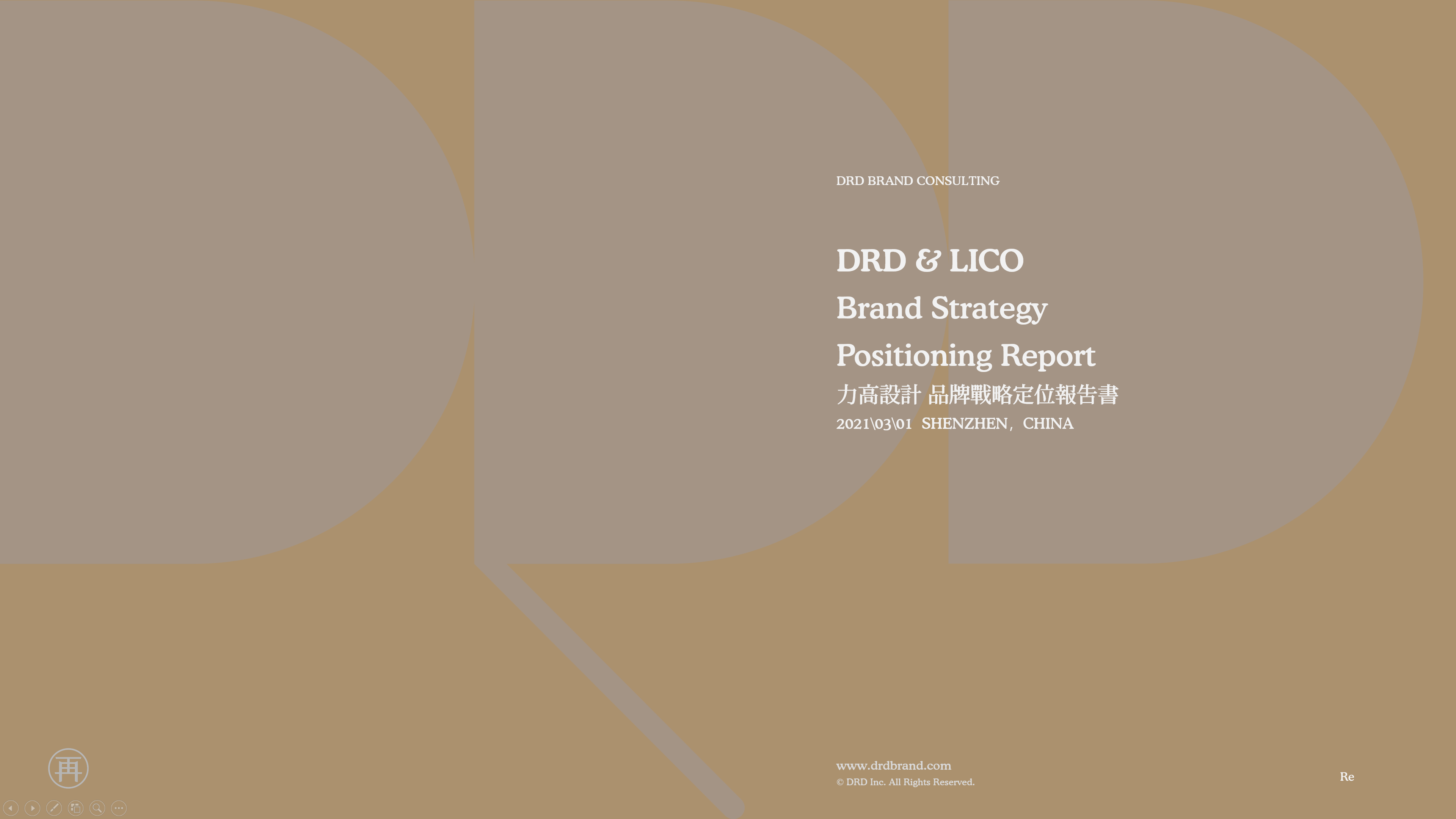 成果 2 《 LICO力高设计品牌战略定位分析报告书 》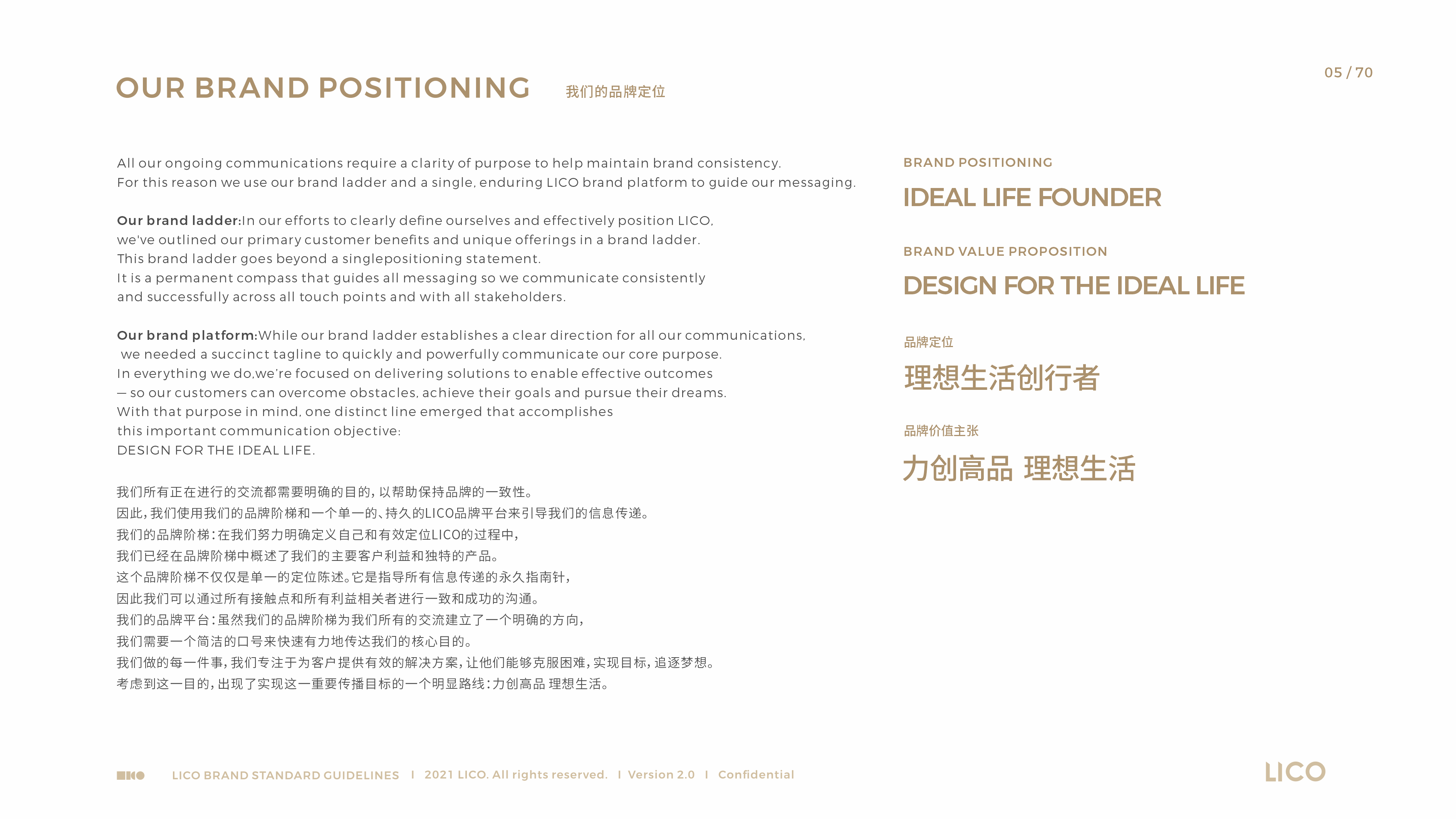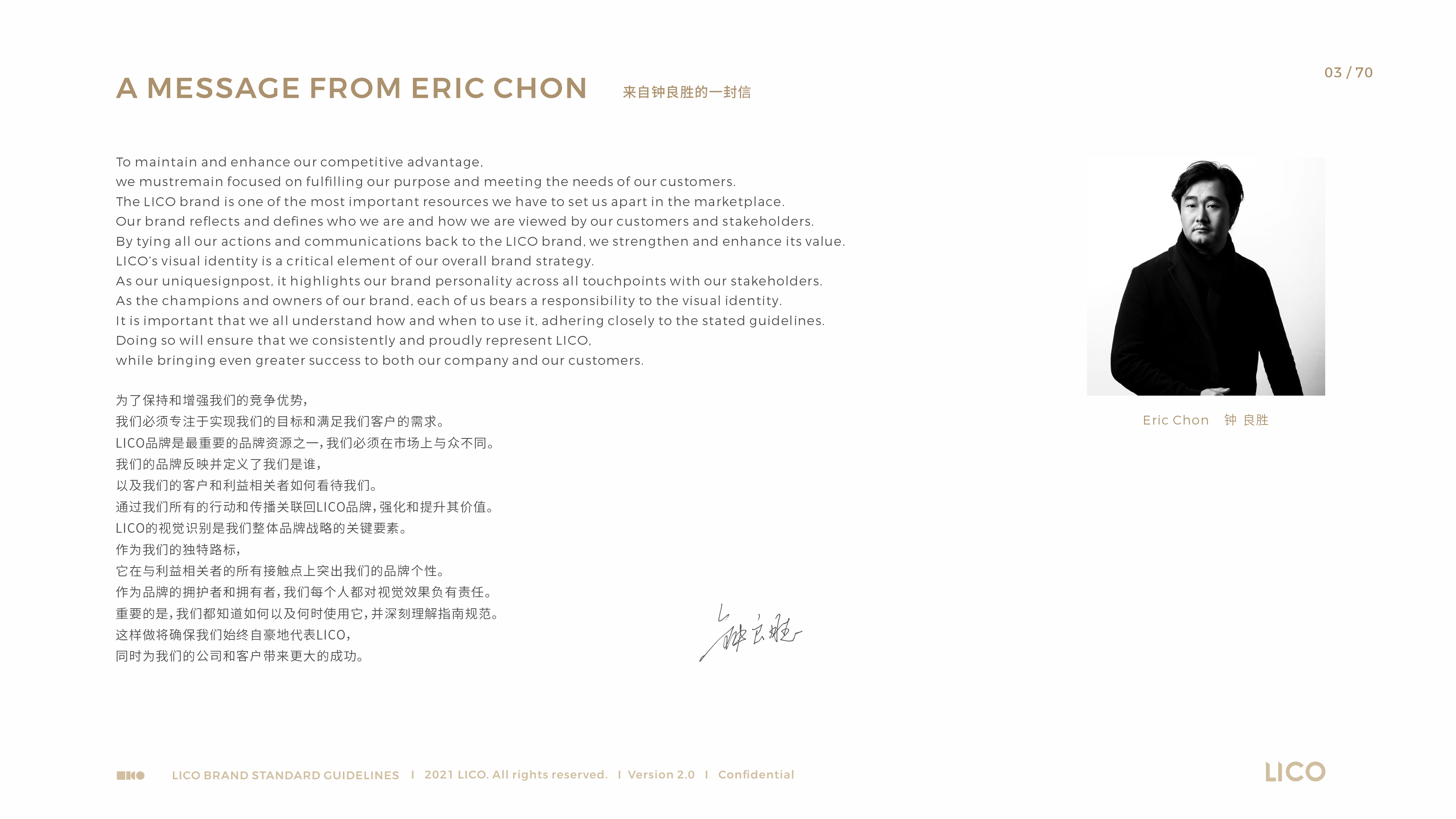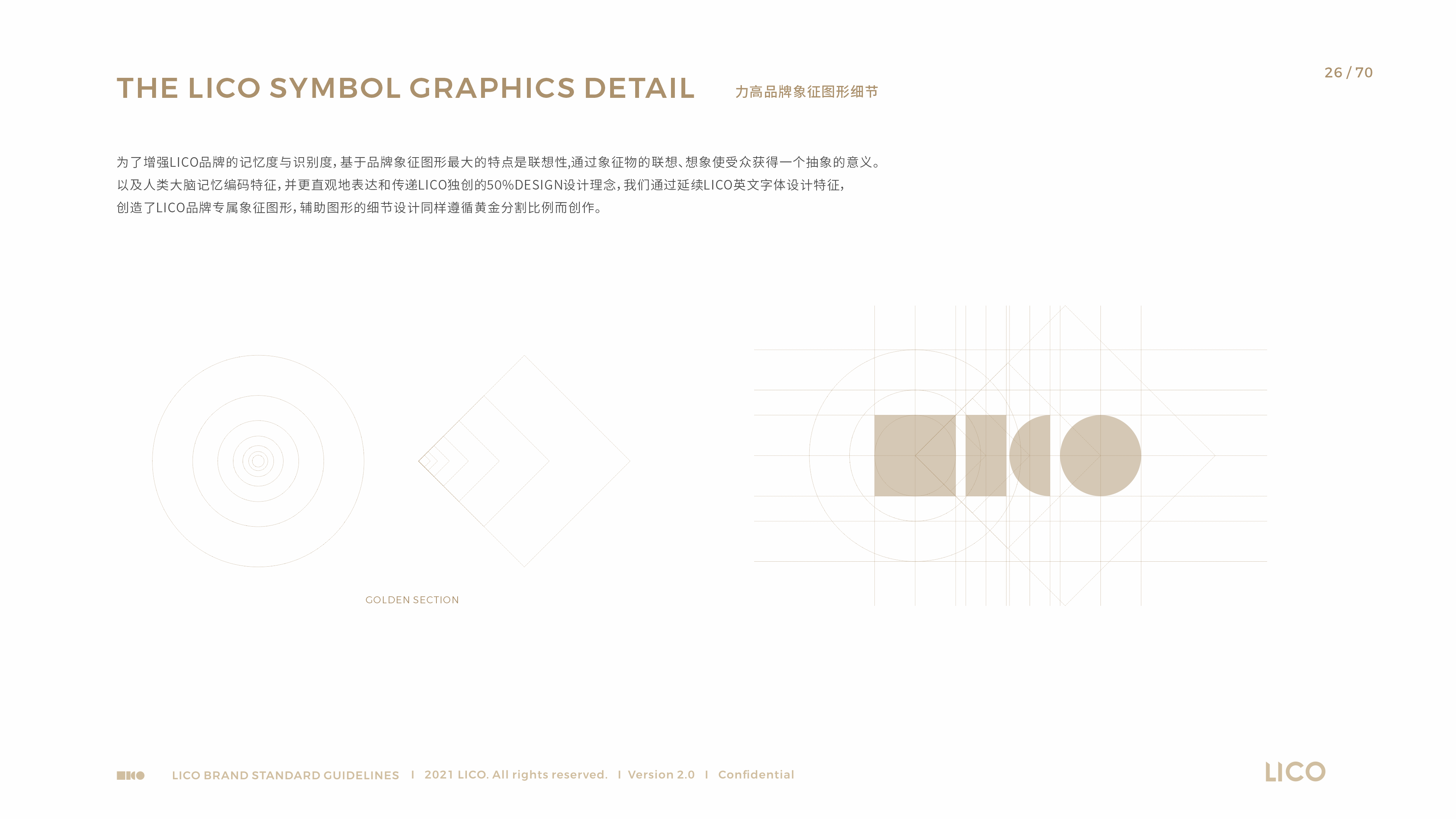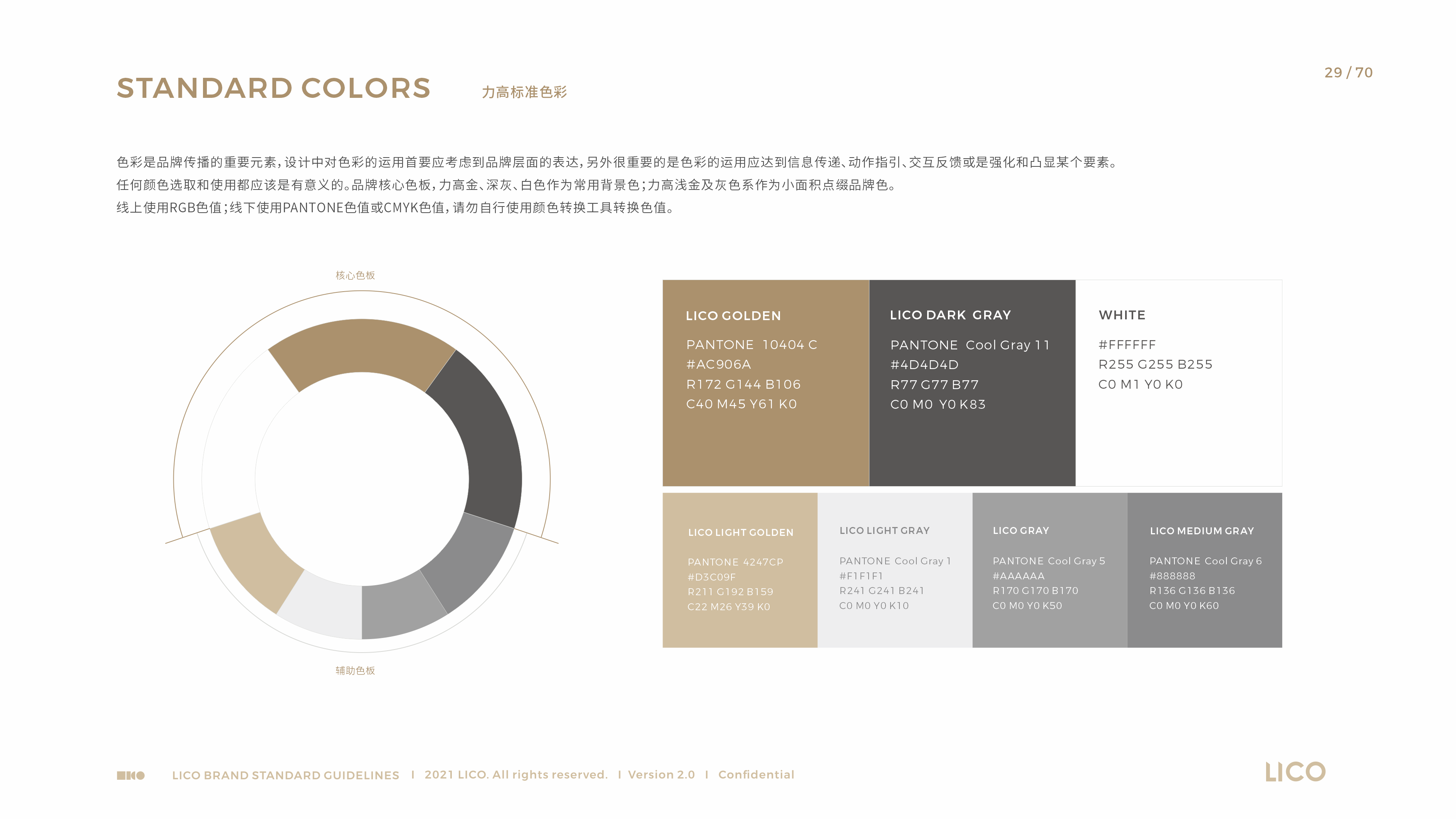 成果 3 《 LICO 品牌标准系统指南2021 》内容节选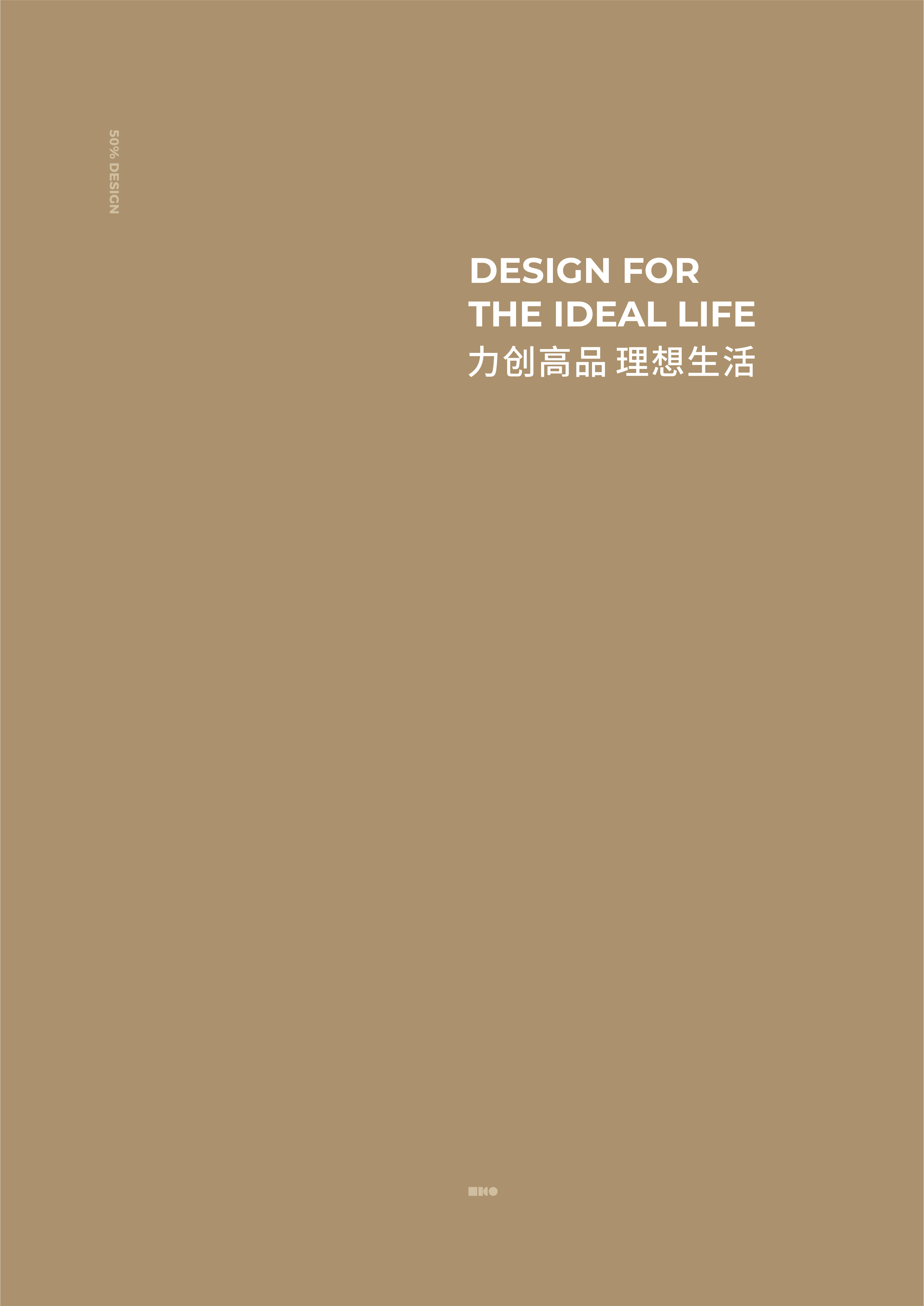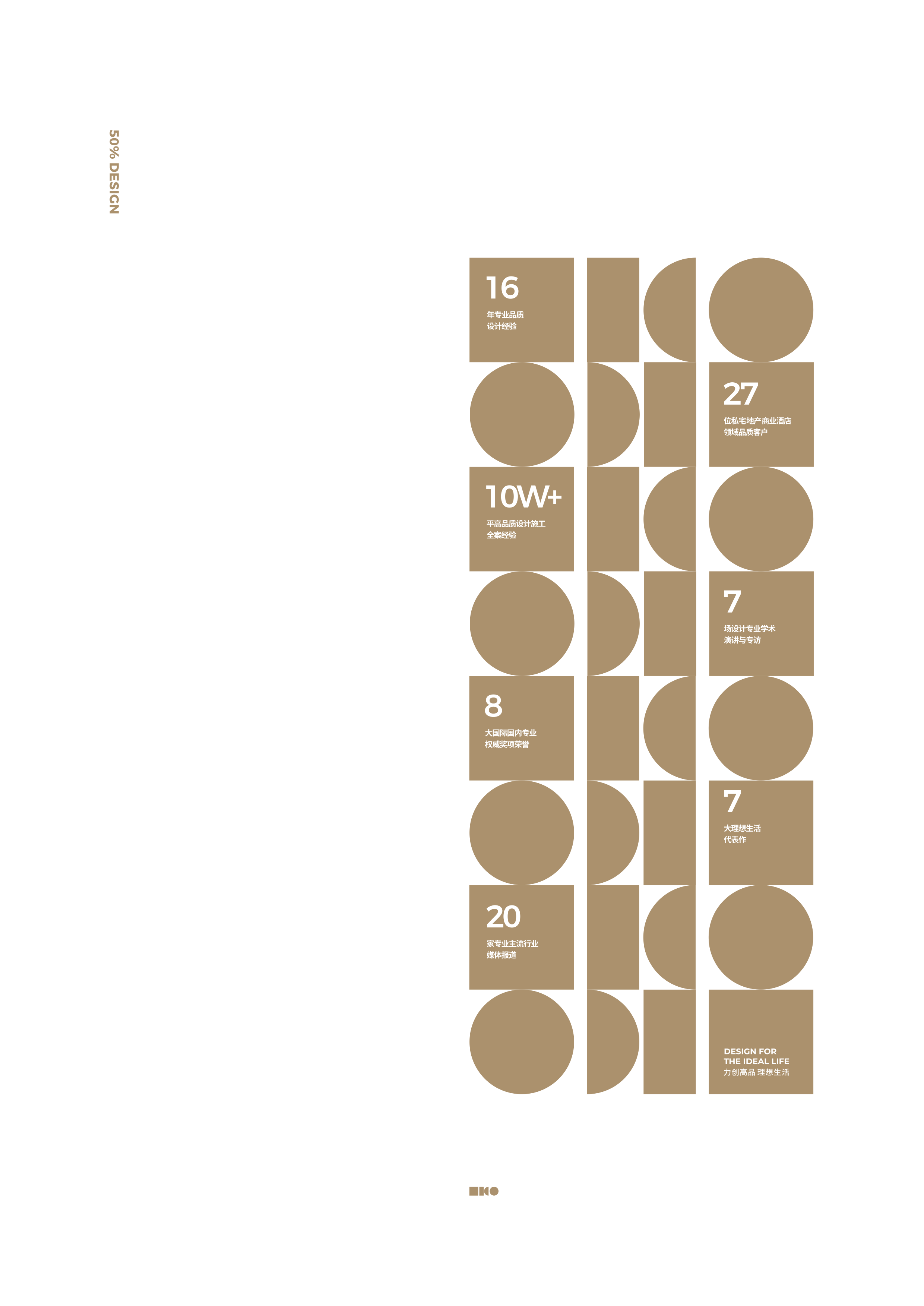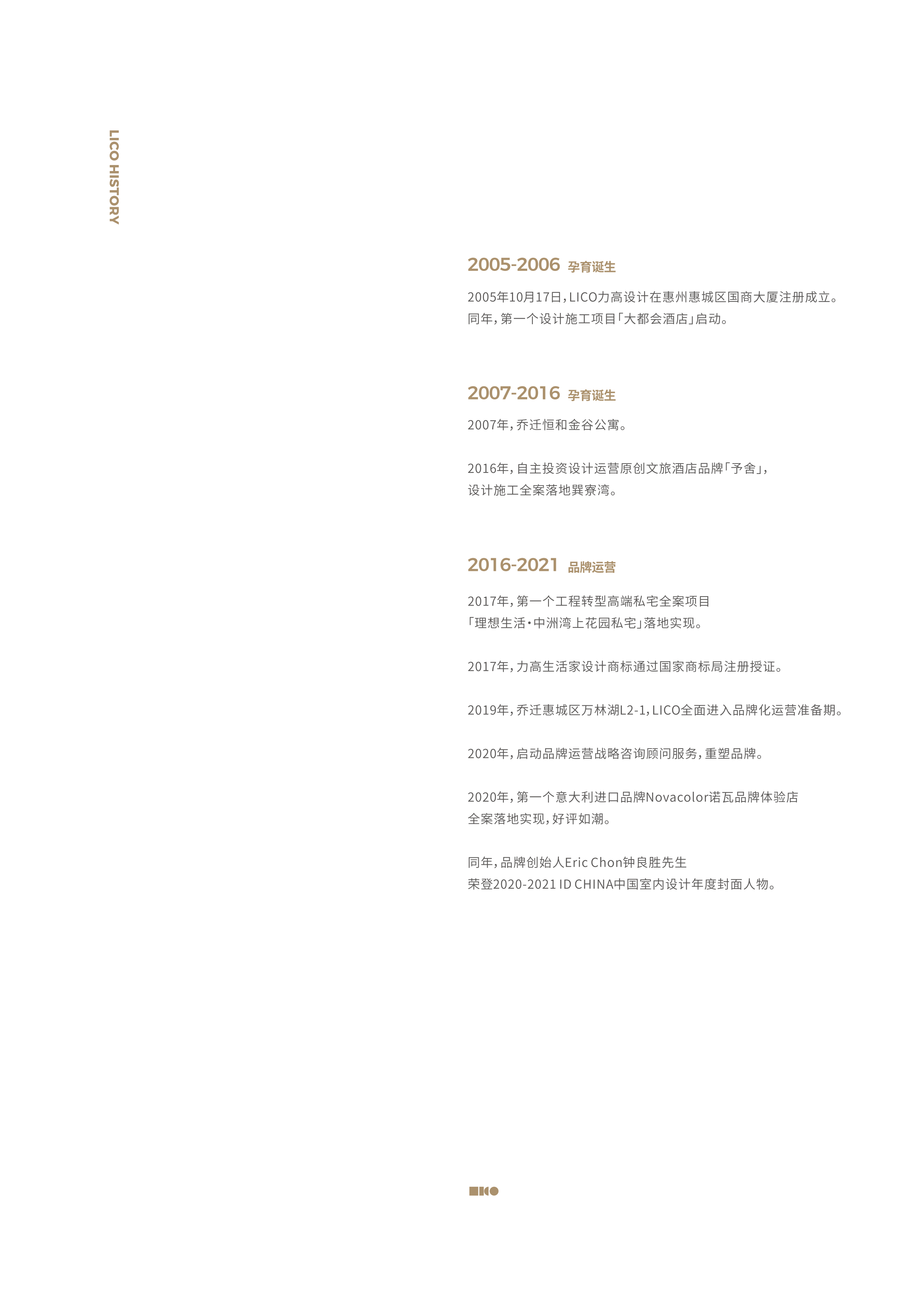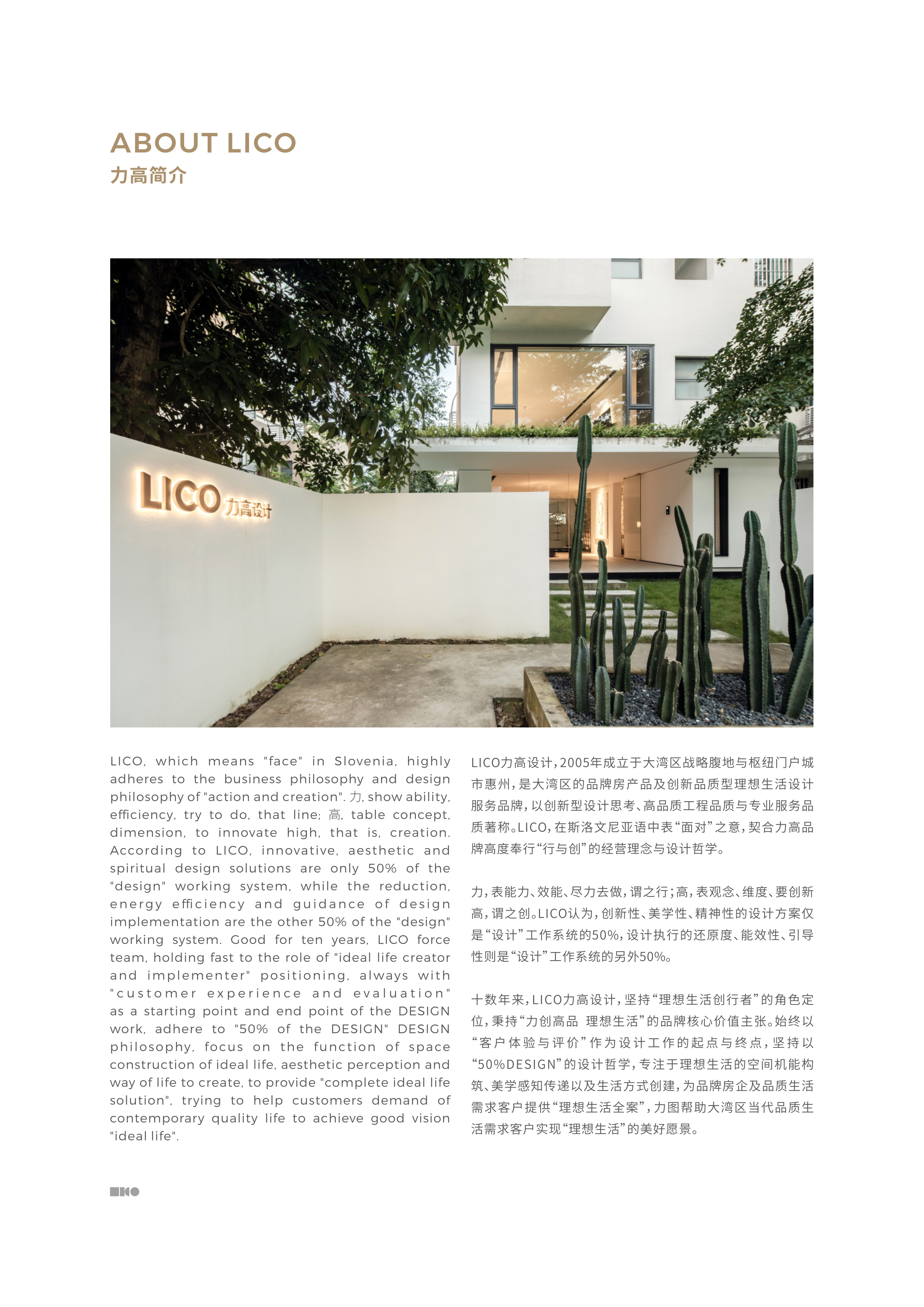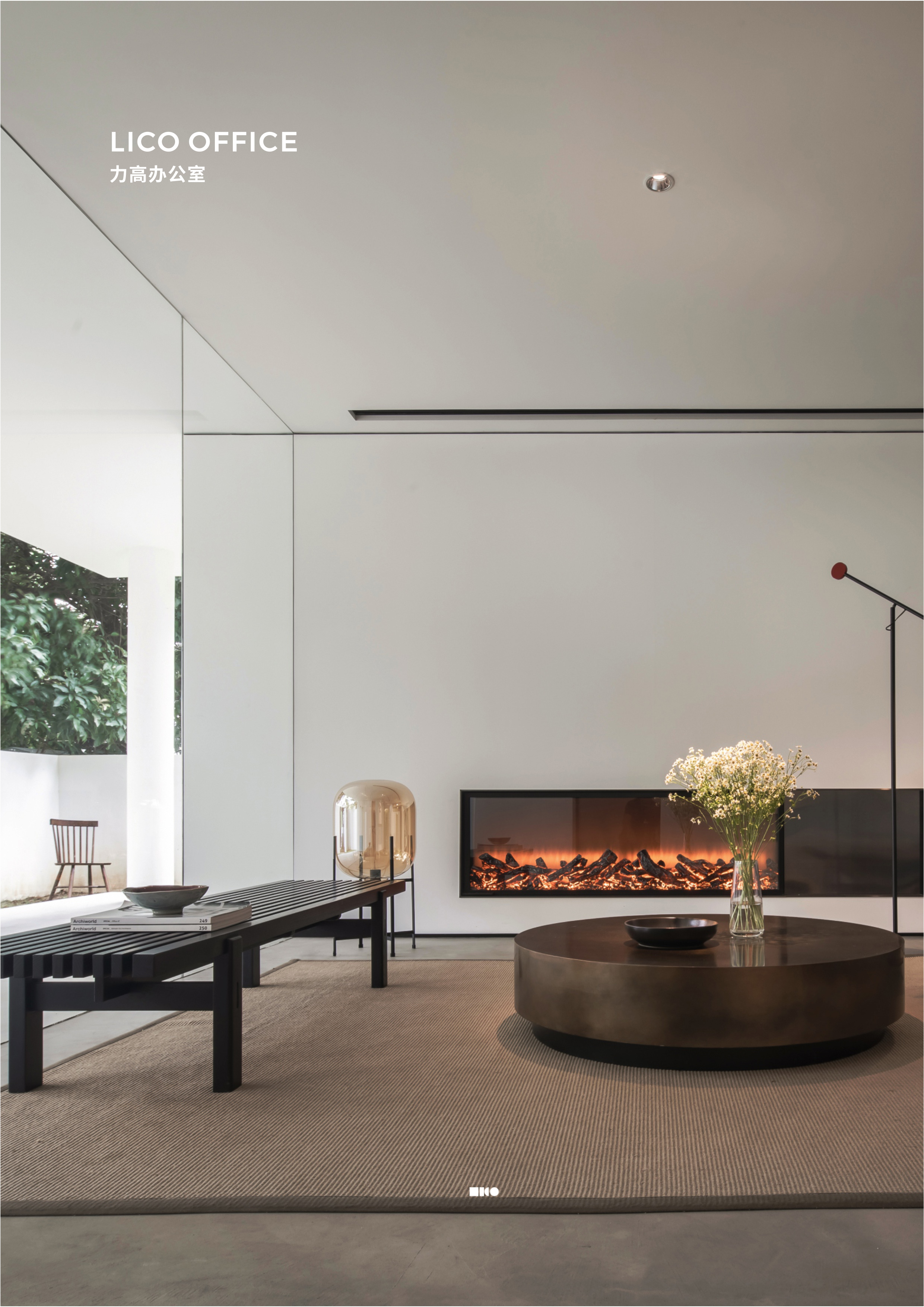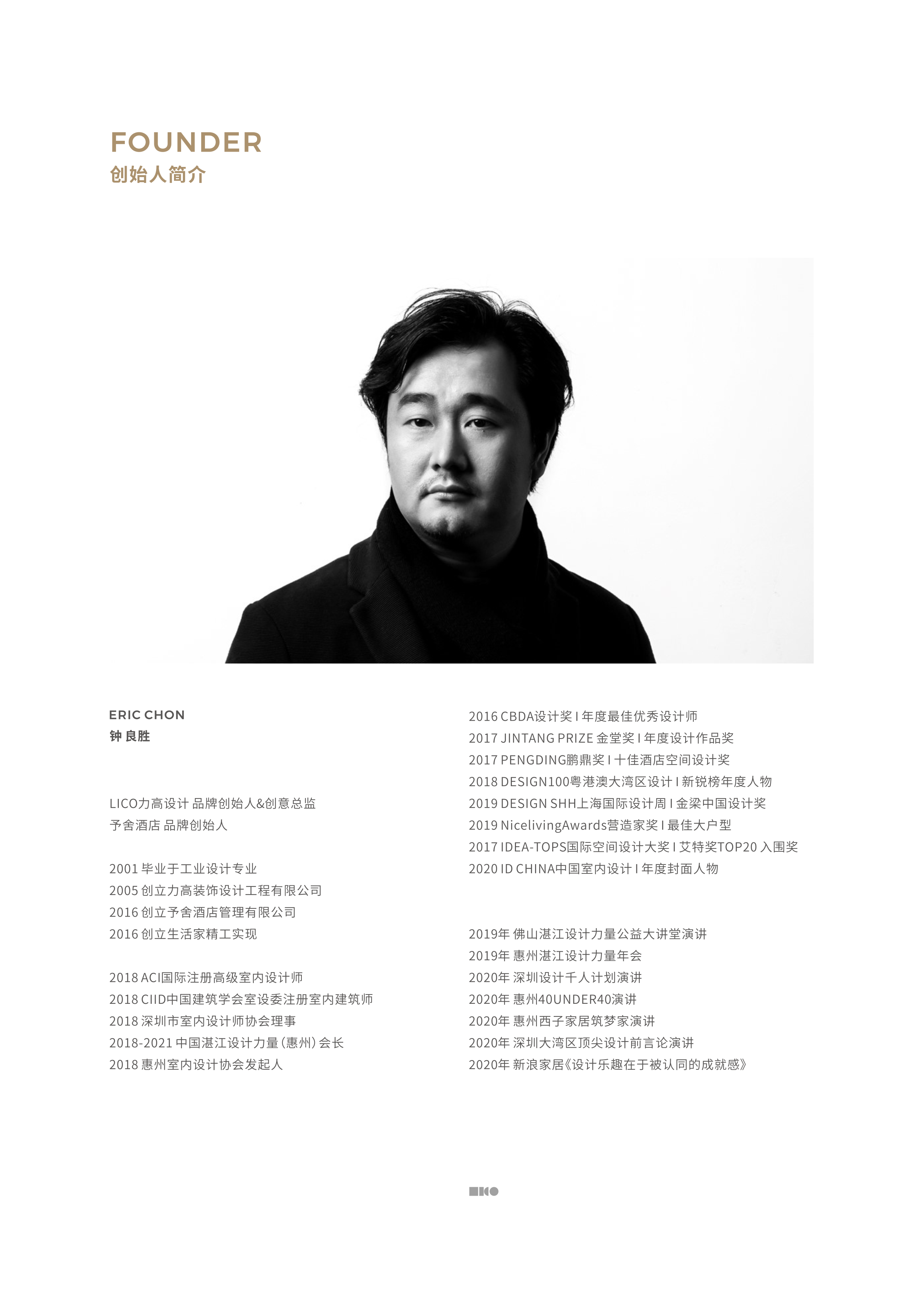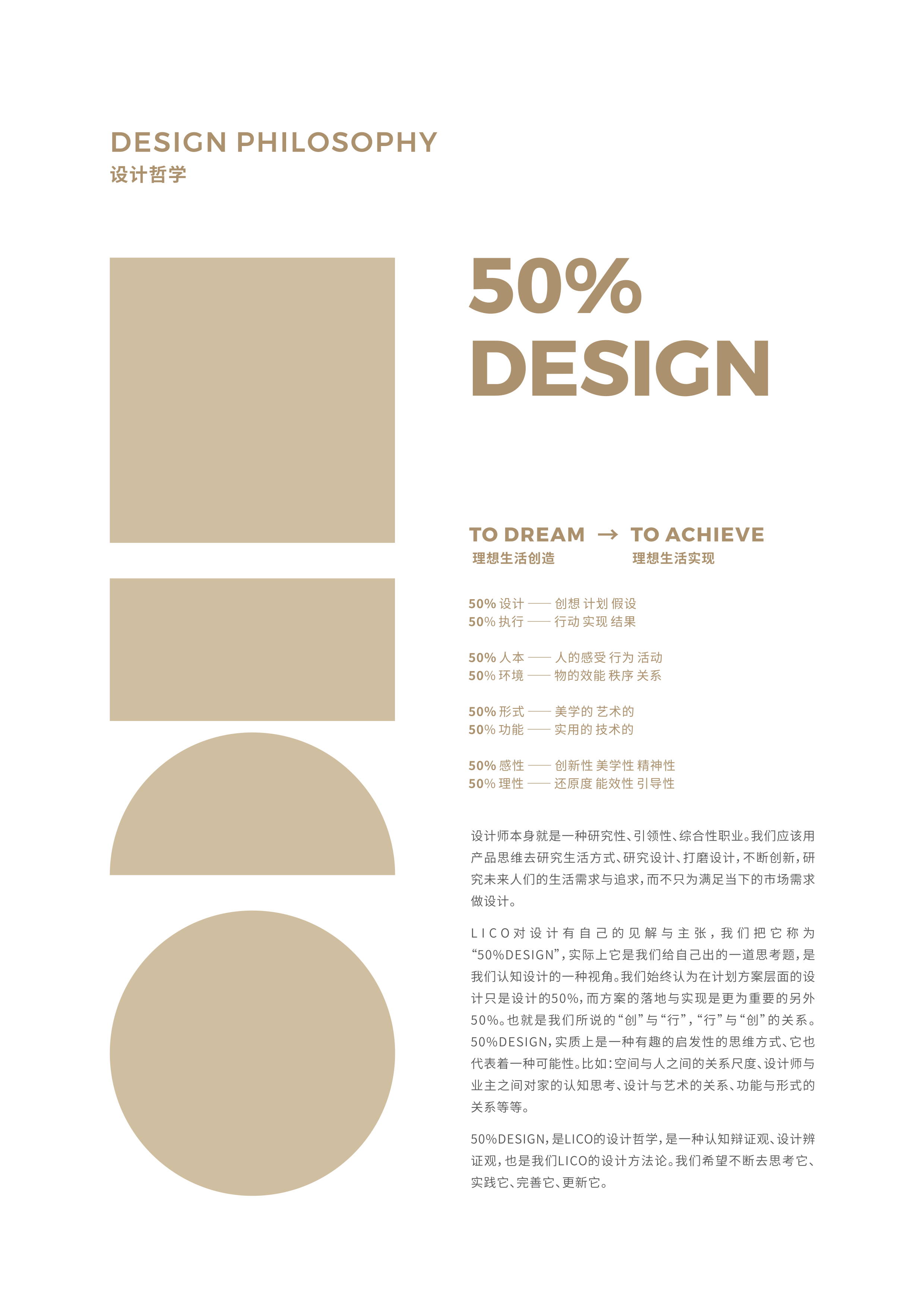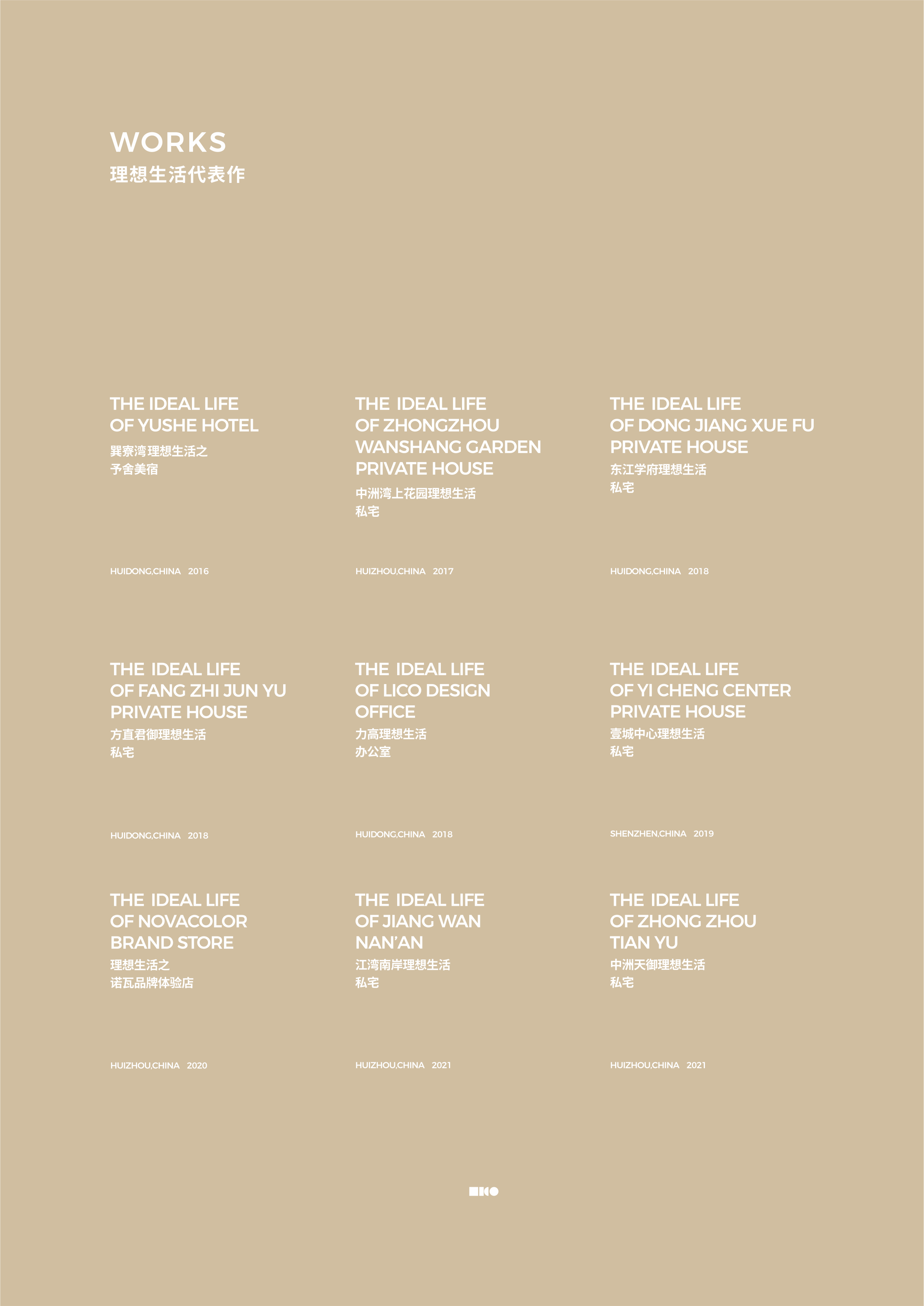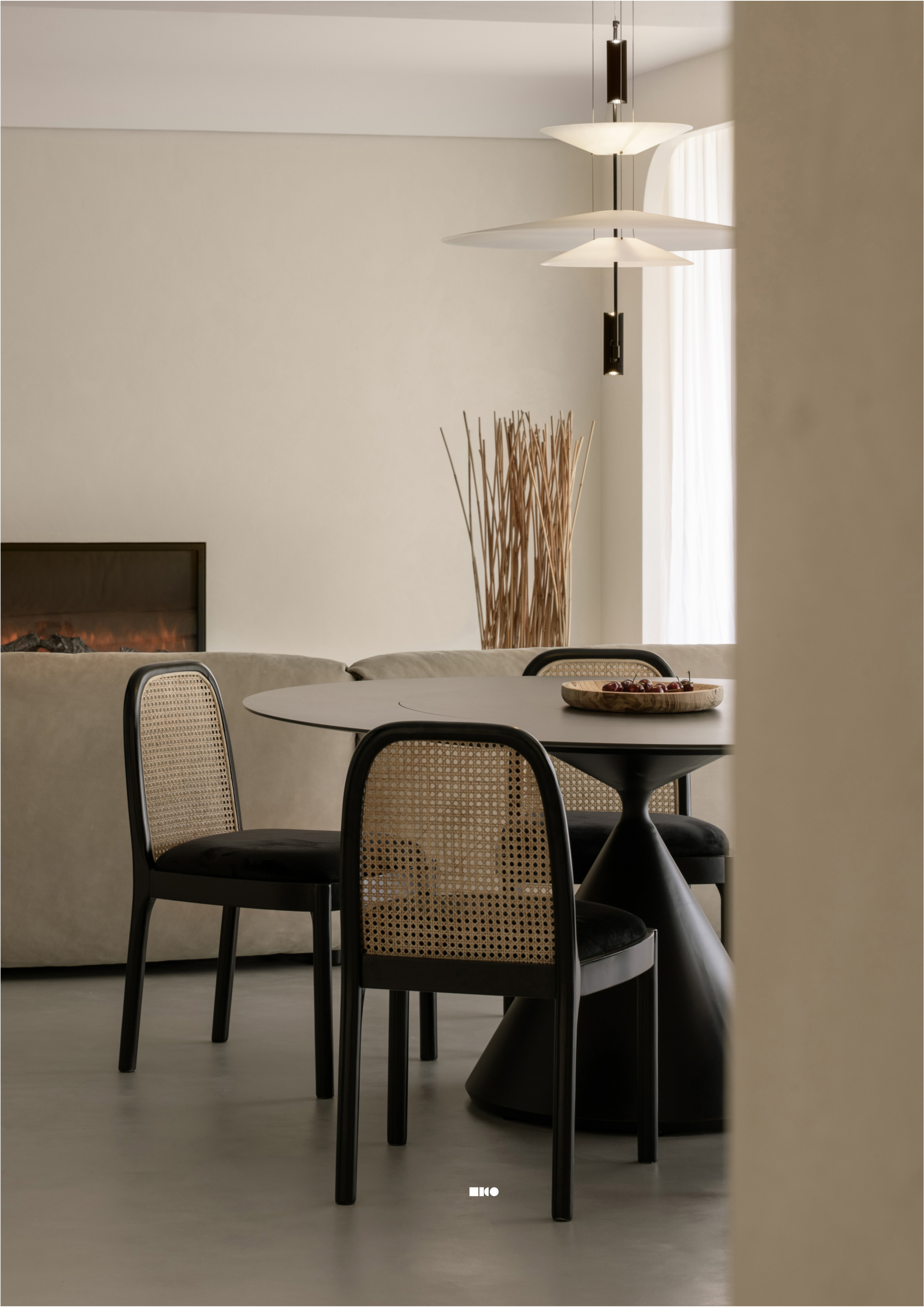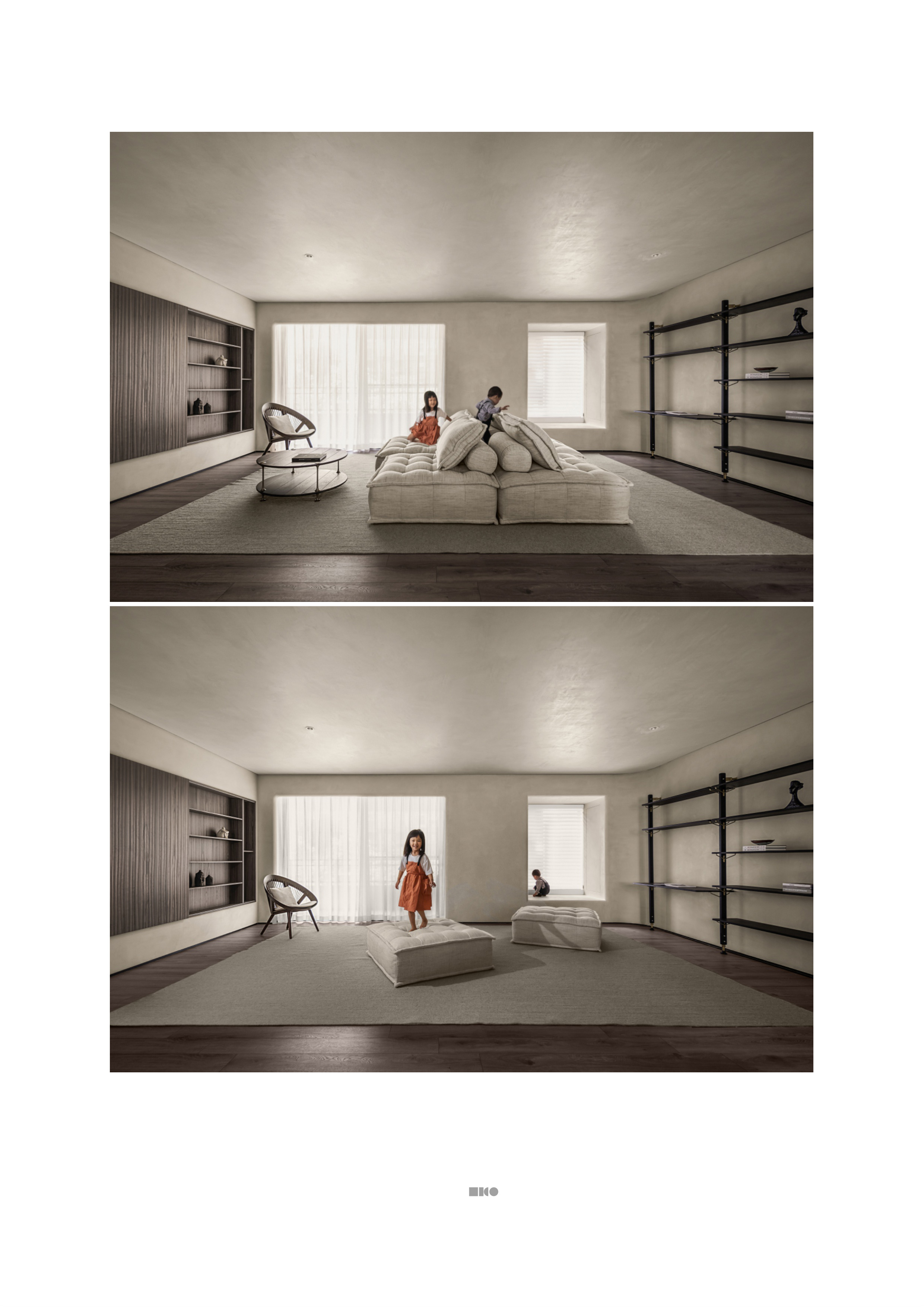 成果 4 《 LICO力高设计客户帮助指南2021 》内容节选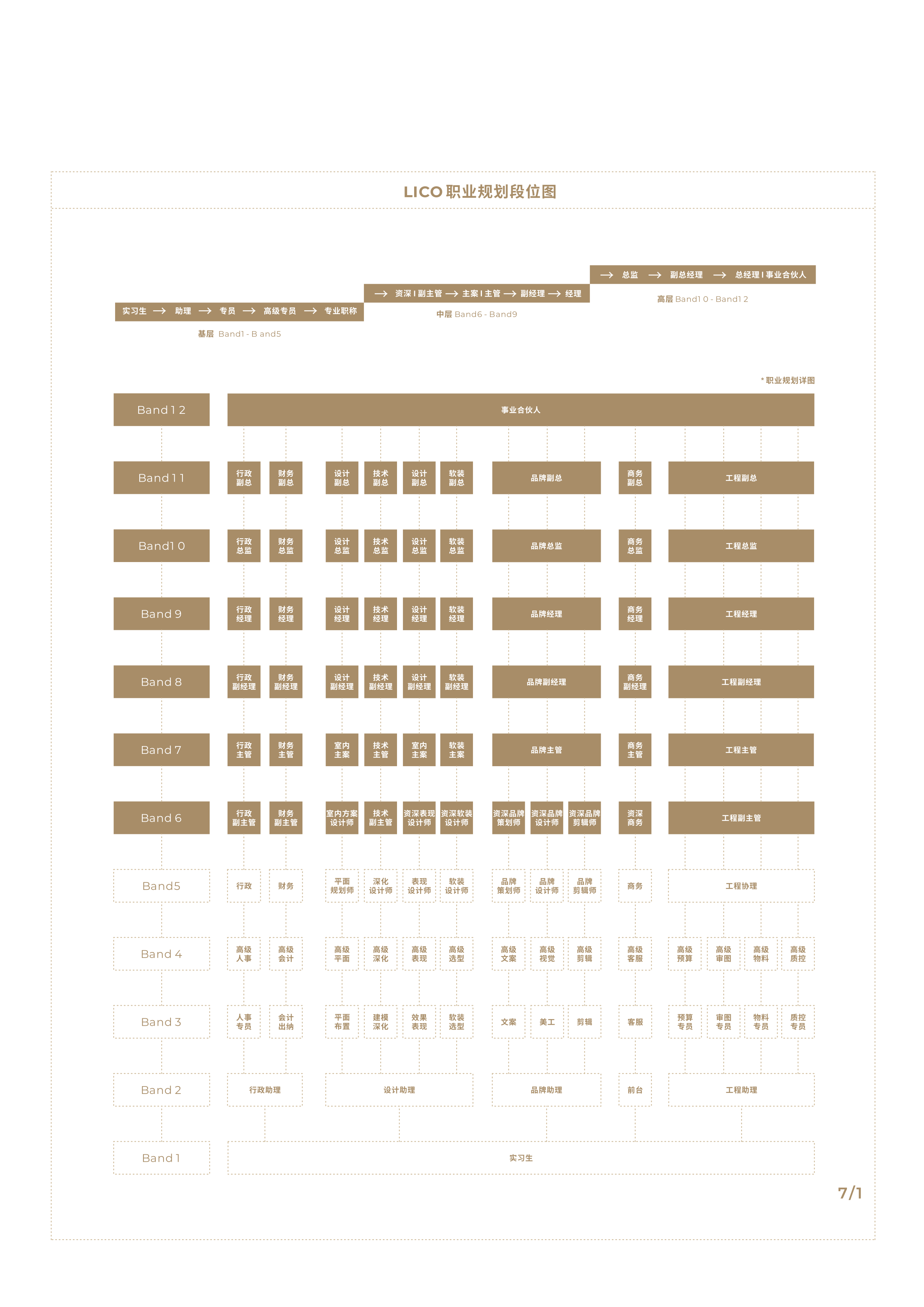 成果 5 《 LICO职业发展帮助指南2021 》内容节选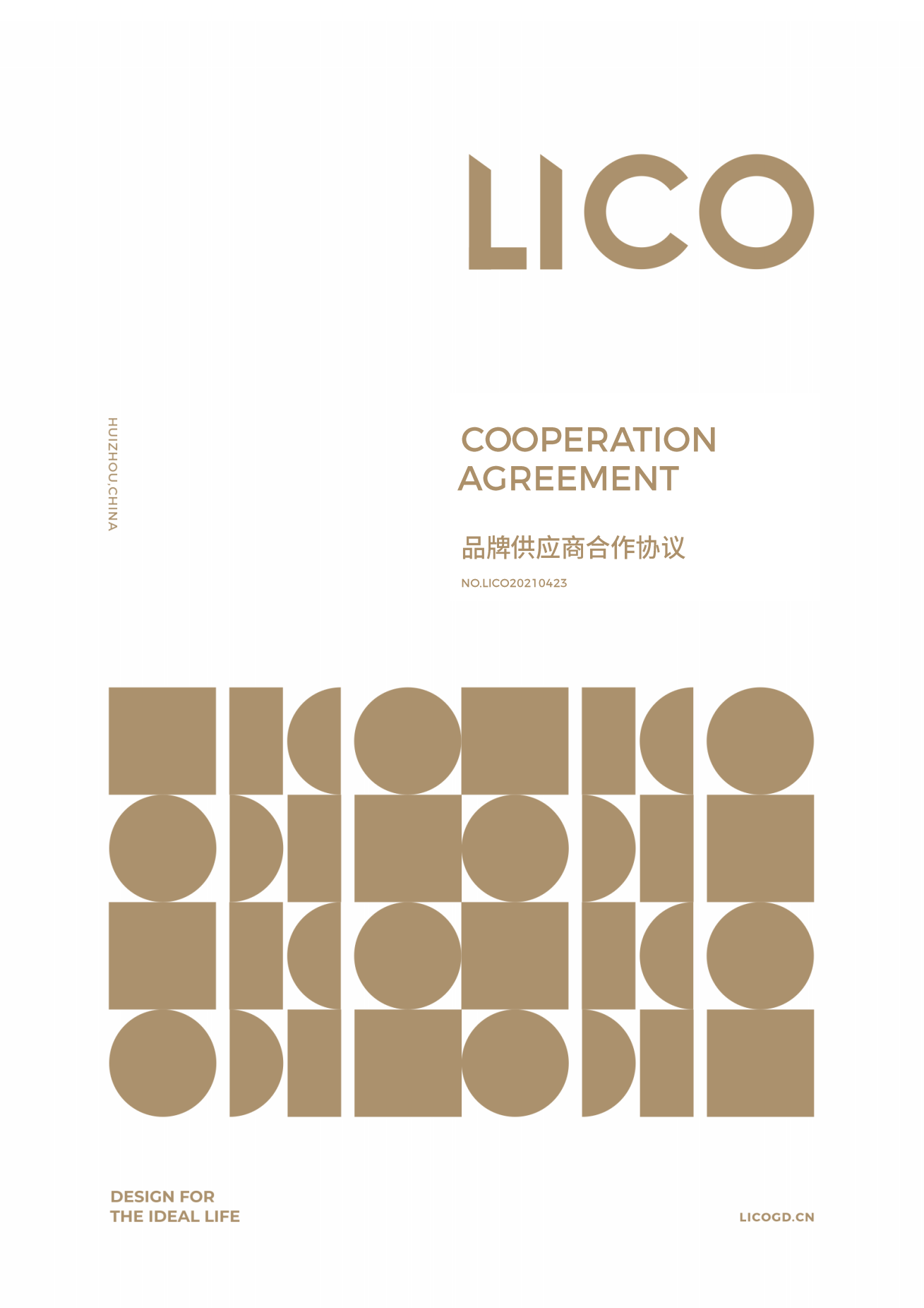 成果 6 《 LICO品牌供应商合作帮助指南2021 》节选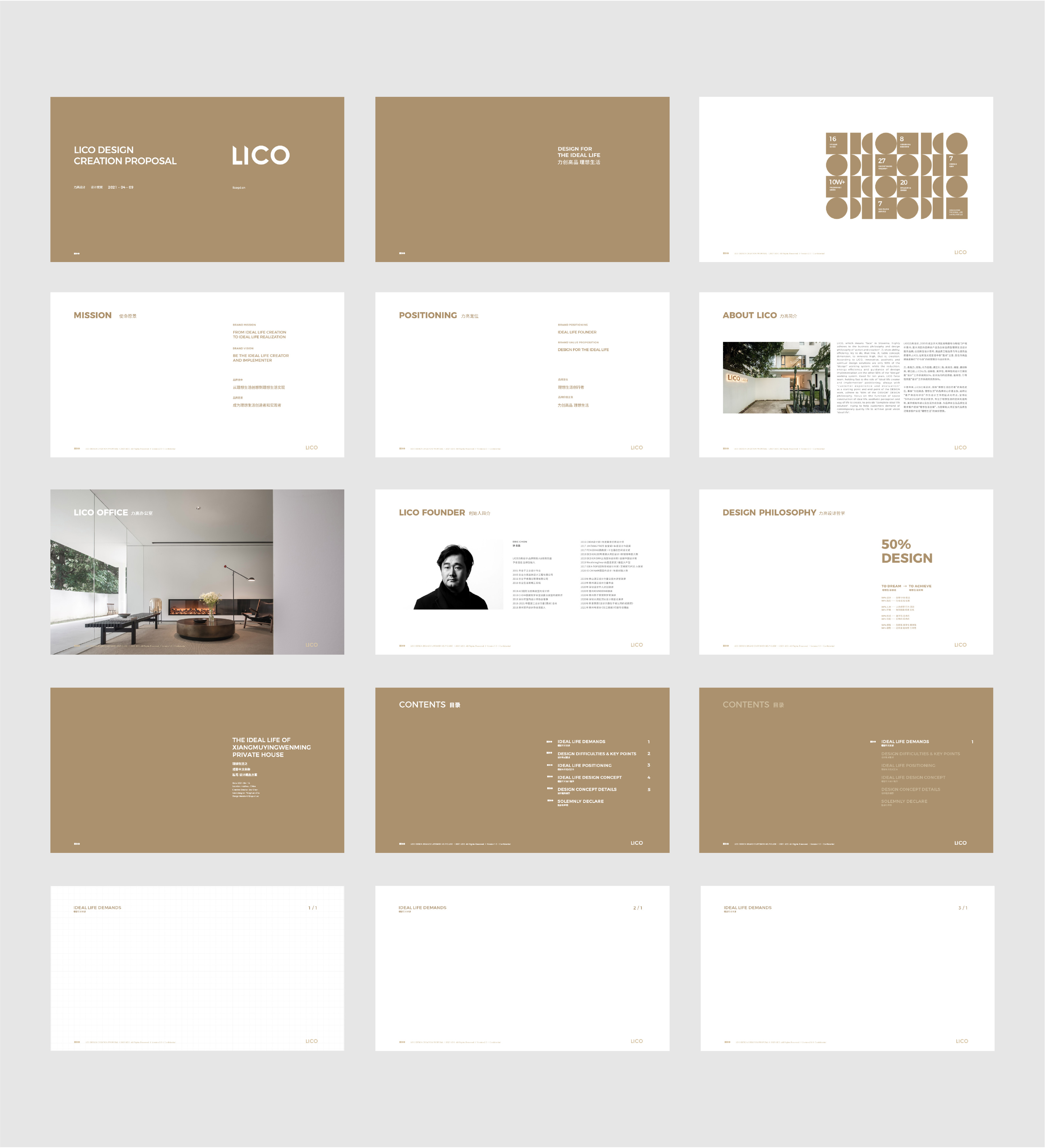 成果 7 《 LICO设计成果产品形象规范2021 》节选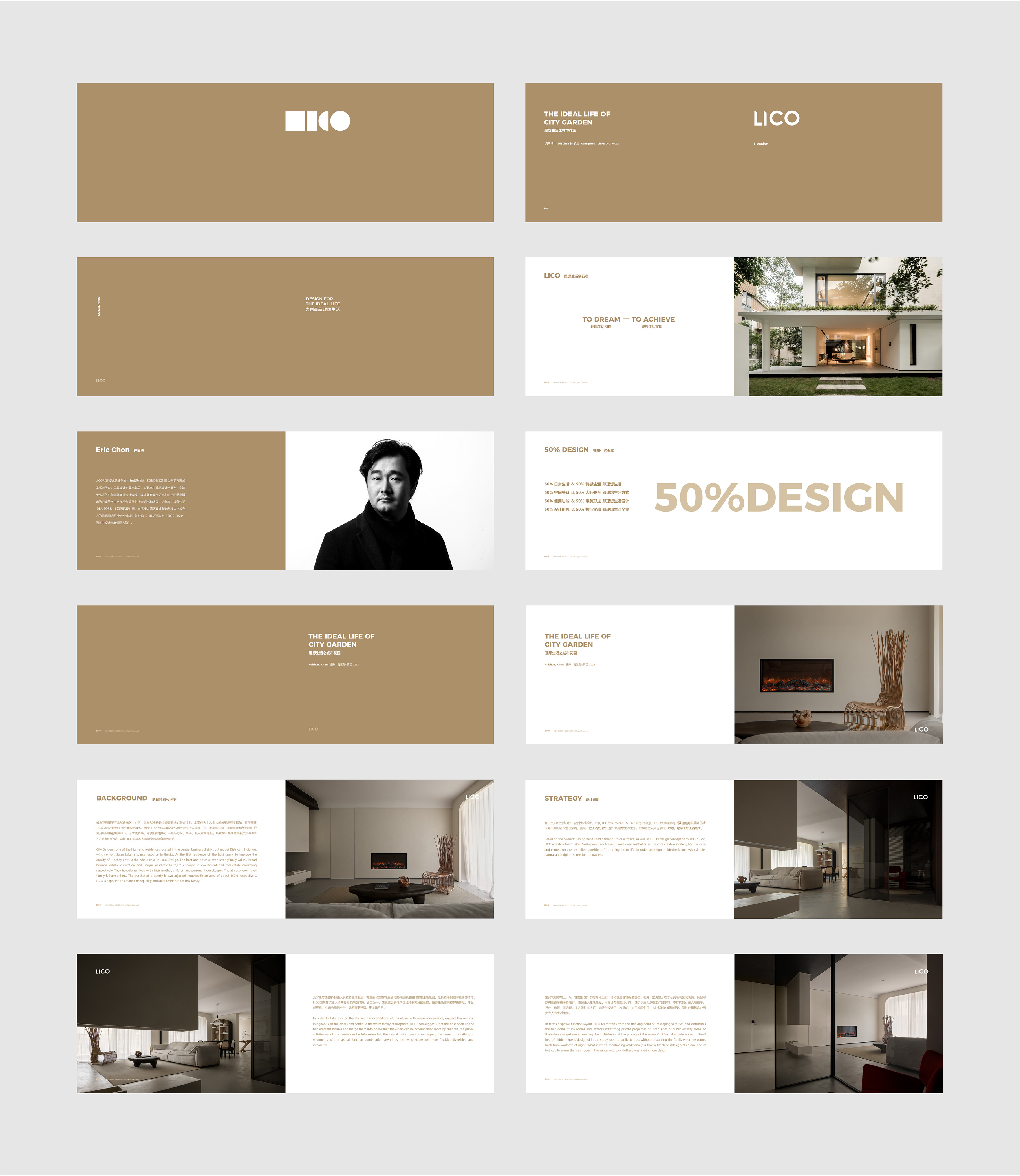 成果 8 《 LICO设计演说主题课件策划设计2021 》节选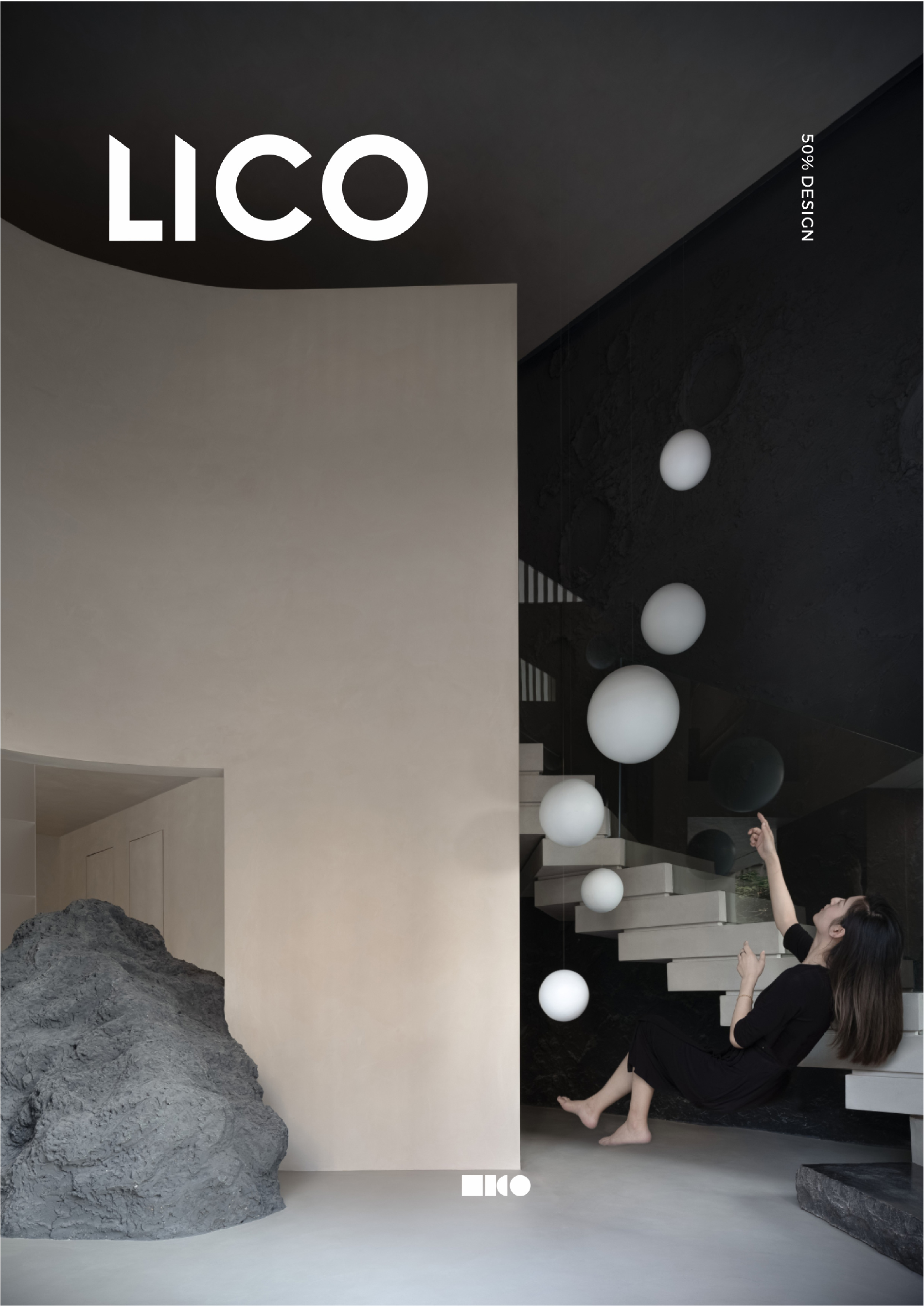 成果 9 《 LICO I NOVACOLOR BRAND STORE 》作品内容策划 > 点击阅读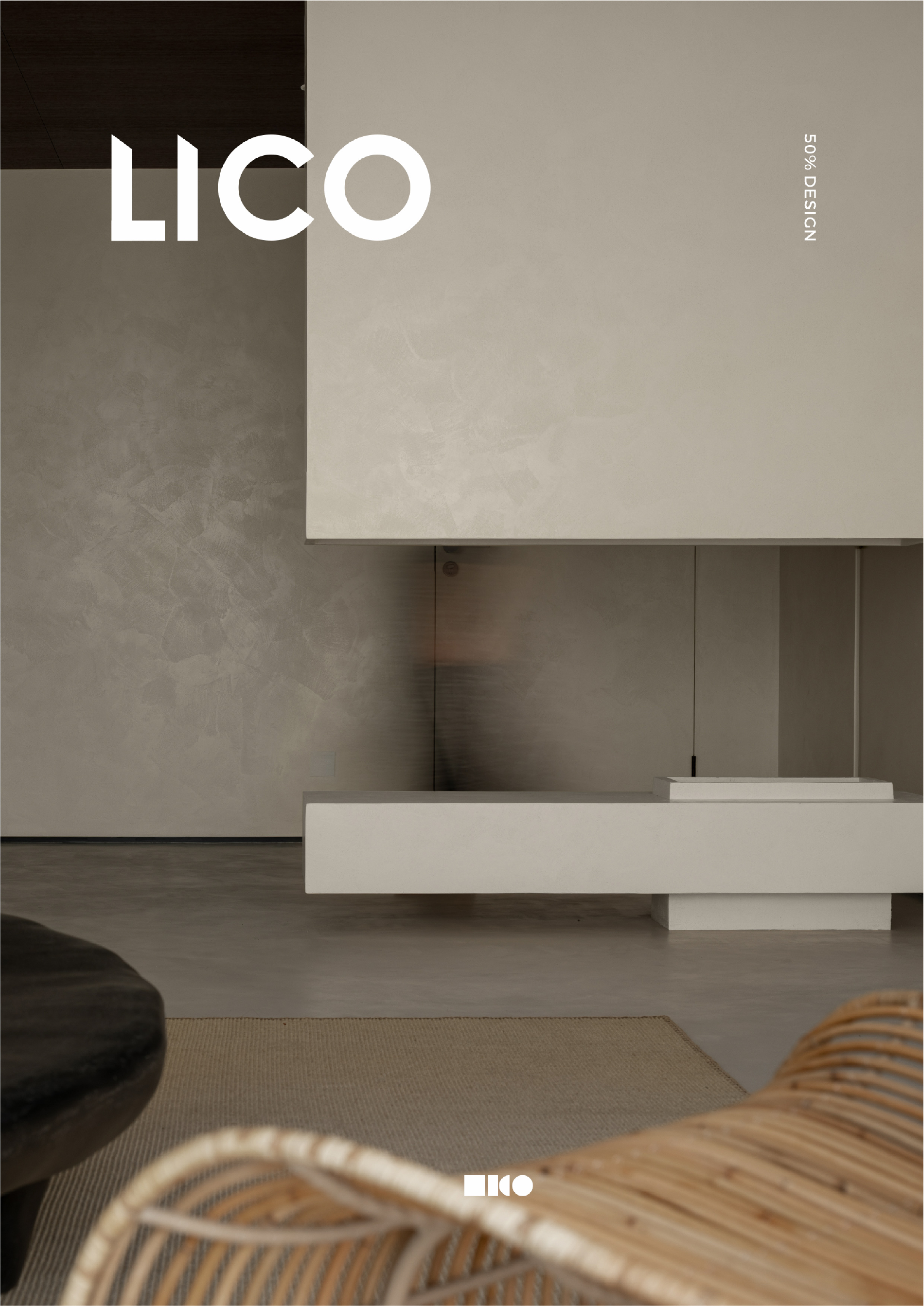 成果 10 《 理想生活之城市花园 私宅 》作品内容策划 > 点击阅读
成果 11 《 理想生活之给孩子以意趣 》作品内容策划 > 点击阅读

LICO & DRD
和力高一起 与理想同行
关于力高 ABOUT LICO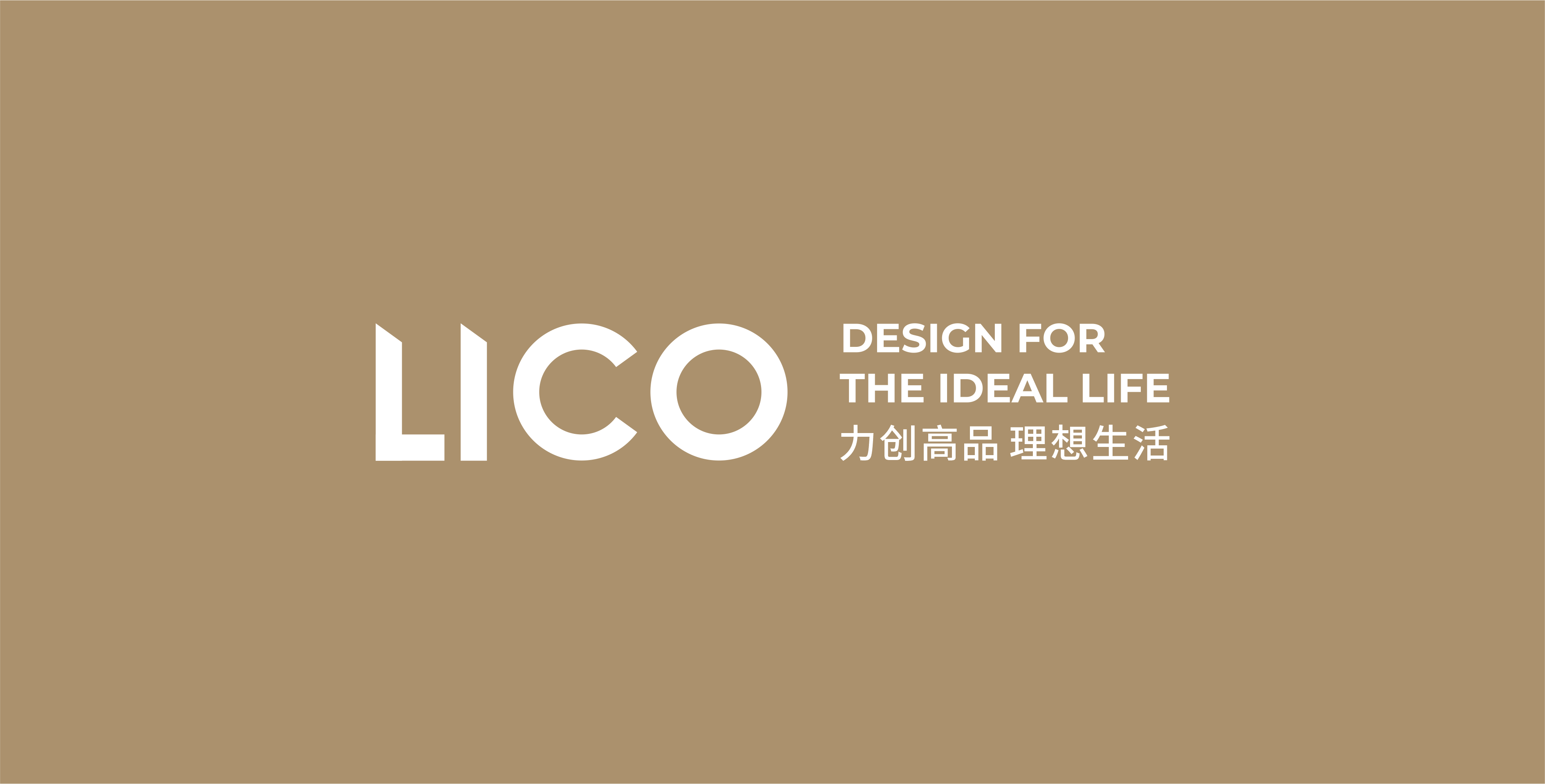 LICO力高设计,2005年成立于大湾区战略腹地与枢纽门户城市惠州,是大湾区的品牌房产品及创新品质型理想生活设计服务品牌,以创新型设计思考、高品质工程品质与专业服务品质著称。LICO,在斯洛文尼亚语中表"面对"之意,契合力高品牌高度奉行"行与创"的经营理念与设计哲学。力,表能力、效能、尽力去做,谓之行;高,表观念、维度、要创新高,谓之创。LICO认为,创新性、美学性、精神性的设计方案仅是"设计"工作系统的50%,设计执行的还原度、能效性、引导性则是"设计"工作系统的另外50%。
LICO Design, established in 2005 in the strategic hinterland of the Greater Bay Area and the hub gateway city of Huizhou, is a branded housing product and innovative quality ideal life design service brand in the Greater Bay Area, with innovative design thinking, high-quality engineering quality and professionalism The service quality is famous. LICO, which means "face" in Slovenian, is in line with the Lico brand's high degree of pursuing the business philosophy and design philosophy of "action and creation". Strength means ability, efficiency, and doing our best, which is called action; high means notion, dimension, and the need to create new heights, which is called innovation. LICO believes that innovative, aesthetic, and spiritual design solutions are only 50% of the "design" work system, and the reduction, energy efficiency, and guidance of design execution are the other 50% of the "design" work system.


十数年来,LICO力高设计,坚持"理想生活创行者"的角色定位,秉持"力创高品理想生活"的品牌核心价值主张。始终以"客户体验与评价"作为设计工作的起点与终点,坚持以"50%DESIGN"的设计哲学,专注于理想生活的空间机能构筑、美学感知传递以及生活方式创建,为品牌房企及品质生活需求客户提供"理想生活全案",力图帮助大湾区当代品质生活需求客户实现"理想生活"的美好愿景。
For more than ten years, LICO has designed and adhered to the role of "creator of ideal life" and uphold the brand's core value proposition of "creating an ideal life of high quality". Always take "customer experience and evaluation" as the starting point and end of the design work, adhere to the "50% DESIGN" design philosophy, focus on the construction of the space function of the ideal life, the transmission of aesthetic perception, and the creation of lifestyle, which is the brand housing enterprise and quality Life needs customers provide the "ideal life full case", and strive to help customers with contemporary quality life needs in the Greater Bay Area realize their vision of "ideal life".


擅长服务领域:品质房产品 \ 品质私宅 \ 品牌商业 \ 文旅民宿产品 \ 城镇旧改等
Good at service areas: quality house products \ quality private houses \ brand commerce \ cultural tourism and homestay products \ old town reforms, etc.